Welcome to the shrine of the Goddess Artemis!
Hail to the Holy Huntress!
Welcome to the Shrine of Artemis, Goddess of the Hunt, Wilderness, and Survival! Enter into the world of her forests and mountains, but watch your step always - move with respect for her wilderness.
Artwork by HelloSanta.
Dancing In Moonlight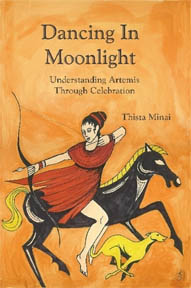 Dancing in Moonlight: Understanding Artemis Through Celebration by Thista Minai
Dancing in Moonlight is a full year of rituals, celebrations, and devotions for the Hellenic goddess Artemis. Groups and solitaries alike will find a new understanding of Artemis in these pages.
Buy Dancing in Moonlight from Asphodel Press.
This shrine sponsored by Thista Minai.