Beltane
Fri-Sun, April 28-30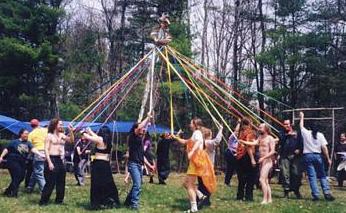 Join us again for our yearly Beltane weekend, April 28-30! As usually, this is a camping event, so please bring your own tent, camping equipment, food, sunscreen, bug repellent, and one dish for the Saturday night potluck. Site fee is $20 - it goes toward site maintenence, toilet paper, trash bags, and other necessities. We'll have our Maypole ceremony at noon on Saturday as usual, and our little Burning Man Saturday night. We'll have our usual "Beers and Spears" fun drill as well as an array of classes throughout the weekend.
(Classes are not yet set and often aren't until the day before Beltane, as some of our teachers are … free spirits? We'll post them here on the website as they are confirmed; if you don't see anything, then nothing is confirmed yet.)
Acceptable arrival times are Friday night from noon to 11 pm, and Saturday up to 11 am. After 11 am we close off the driveway for the main ritual. You may come for only the day on Saturday if you arrive before 11 am and register.
If you would like to teach a class, run a small ritual, or have any other questions about the event, please email Raven at cauldronfarm@hotmail.com.